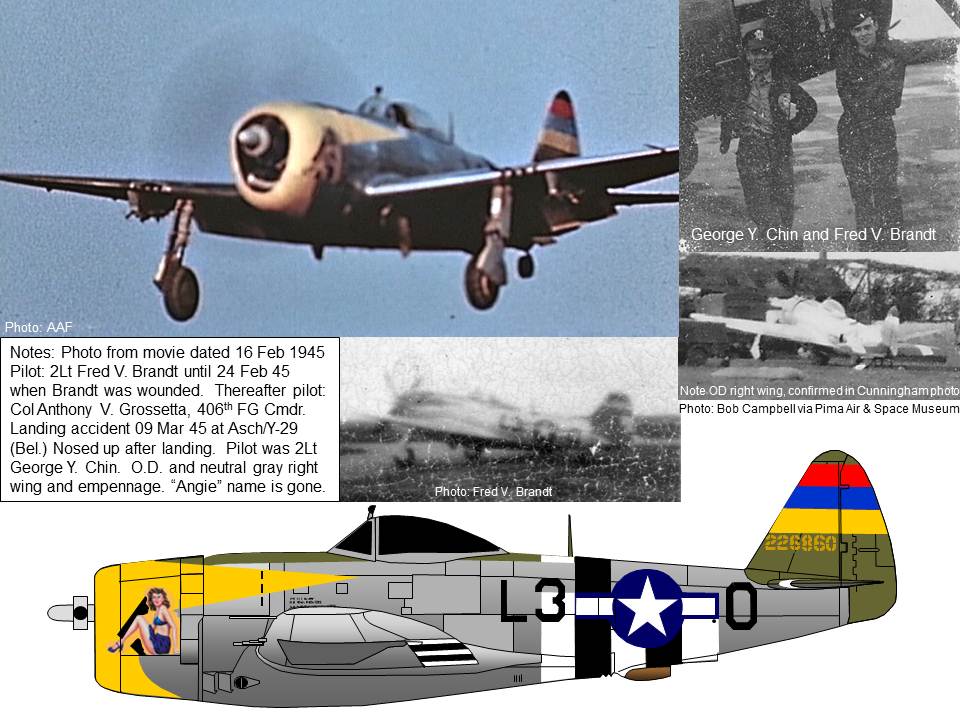 Previous Page Roster Home Next Page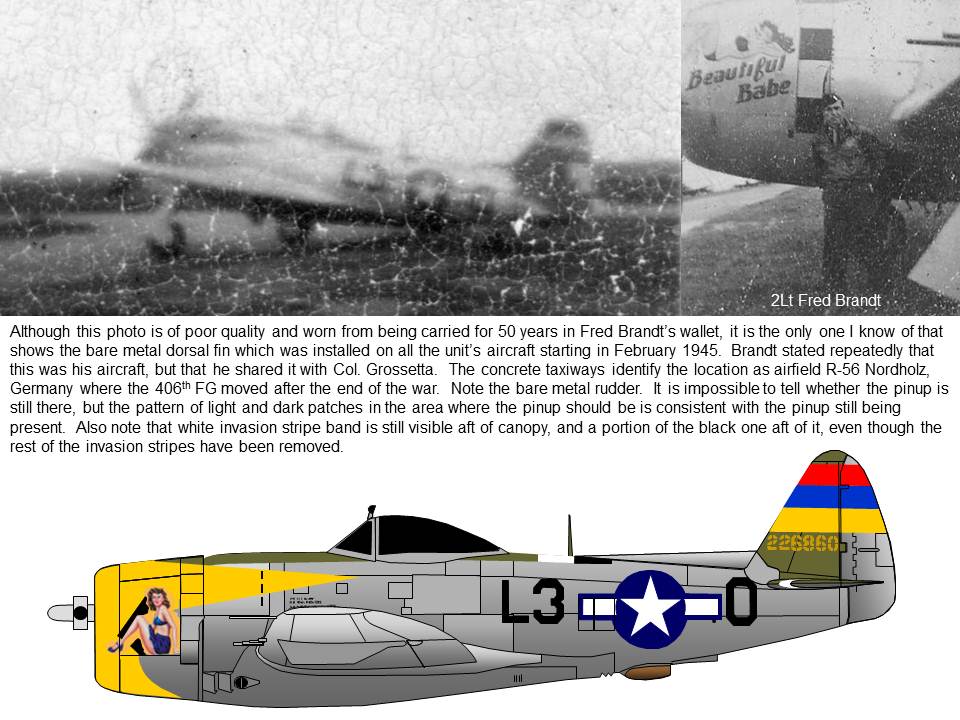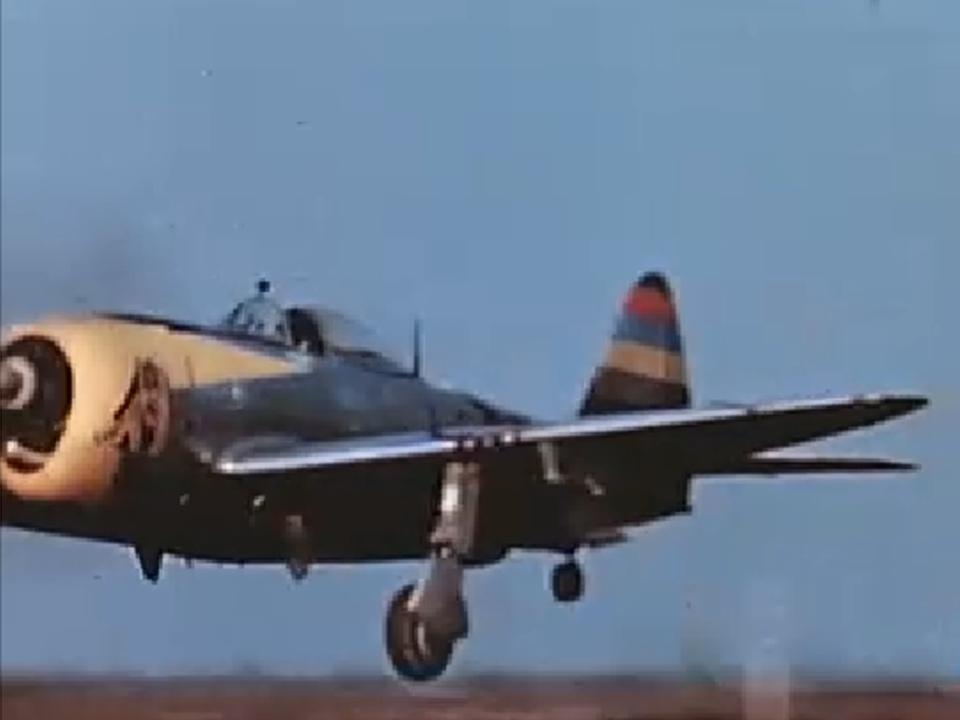 This photo negates the idea that the pinup cowling panel was installed just long enough to take the famous Wyglendowski photo. Here the pinup panel has been given permanent status. The black cowl ring section forward of the pinup has been painted over with yellow to match the rest of the cowling. Clearly the pinup was there to stay. The movie from which this photo was taken was supposedly dated 16 February 1945. If so, then Col Grossetta was not responsible for the cowling panel. He was still on his way back from 30-days leave in the States. If the 16 February 1945 date is correct, then apparently 2Lt Fred Brandt was responsible for the panel. He also apparently had the name Angie removed. The 406th Fighter Group Memorial Association website says the Wyglendowski photo was taken a month after Walker Diamanti left for the States, but they erroneously listed his departure as occurring in February, dating the photo in March. But Diamanti actually left on 13 January, so the Wyglendowski photo could have been in February. It clearly was taken before the movie from which this photo was extracted, since the black ID ring still showed on the pinup panel. On the other hand, the date given for the movie could be wrong. The weather looks more like March than February! Significantly, the War Diary of the Black Watch (Royal Highland Regiment) of Canada says that the weather on the continent on 16 February 1945 was bright sunshine, so the date of the movie could be correct.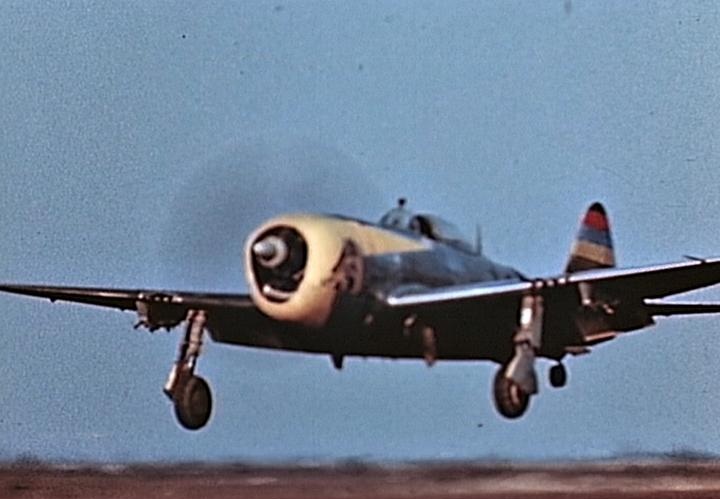 Note that both right and left underwing pylons are painted neutral gray. Perhaps the derelict that supplied the right wing and empennage was also the donor for the pylons. Also note invasion stripes on the underside of the left flap but not the rest of the left wing. The only upper views we have of the left wing (a photo taken at Y-94 Handorf and one taken at R-56 Nordholz) may suggest that the left flap could have an OD upper surface. However, they are both of too poor quality to tell for sure.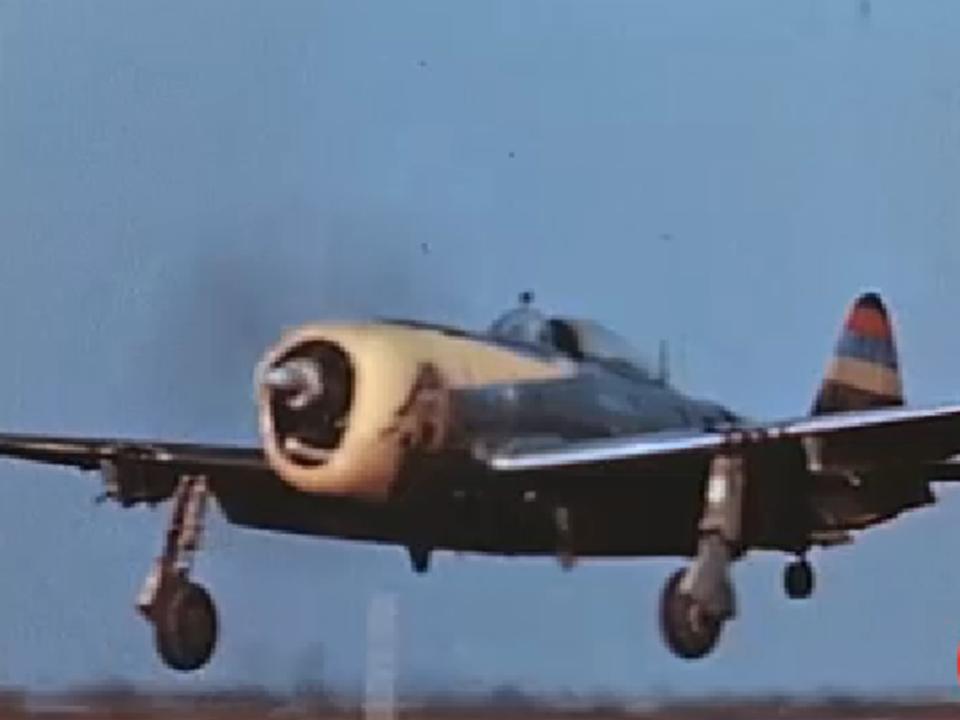 Although this is probably not L3-O in this photo, the aircraft does show the aftermath of a "nose-up" accident. Click on the thumbnail to view a larger version of the photo. Photo: Pima Air & Space Museum