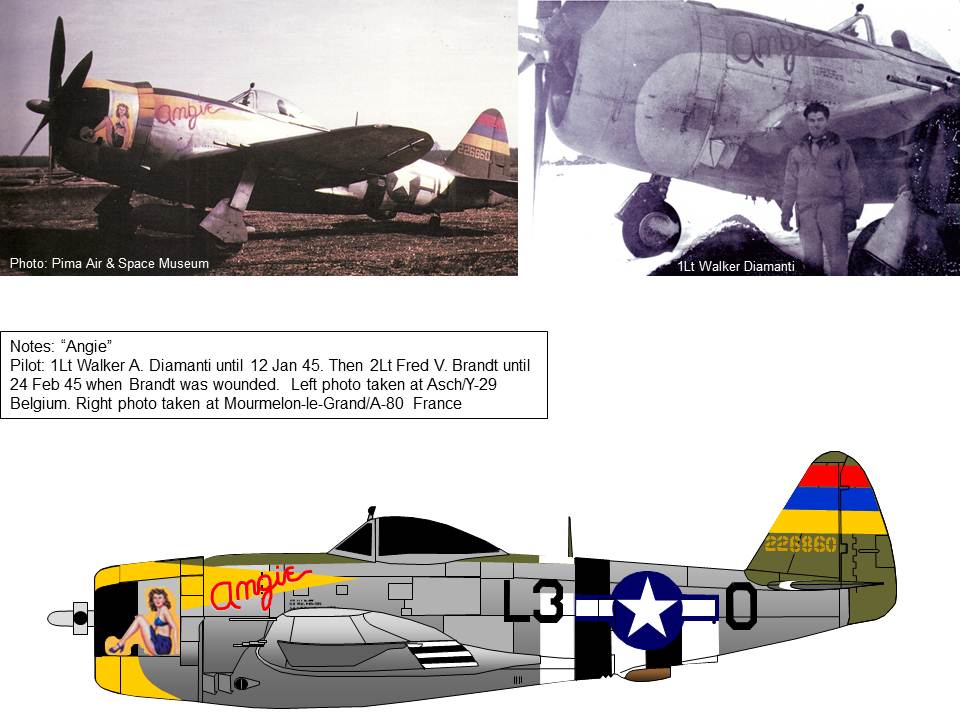 Previous Page Roster Home Next Page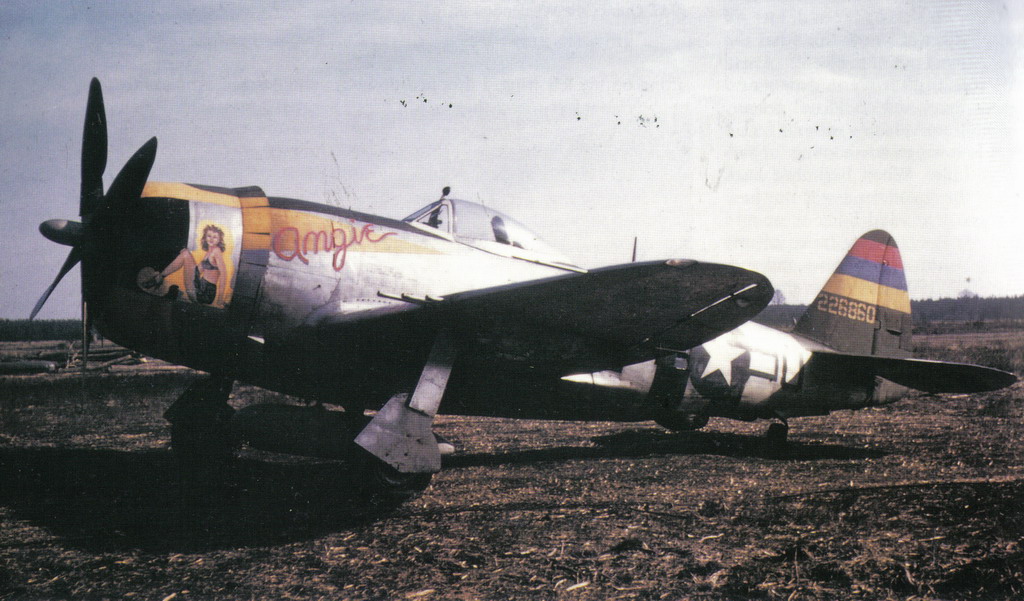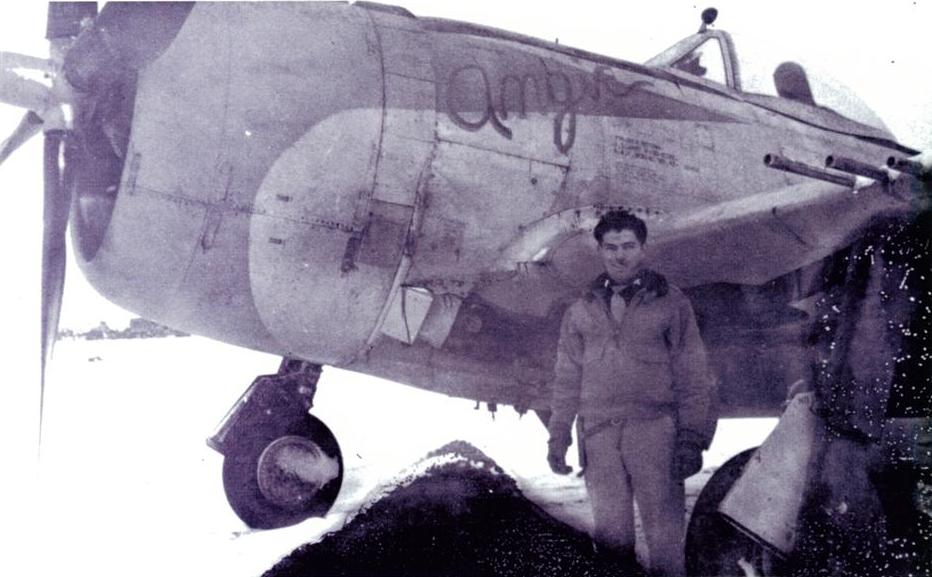 1Lt Walker Diamanti with Angie. Photo: Pima Air & Space Museum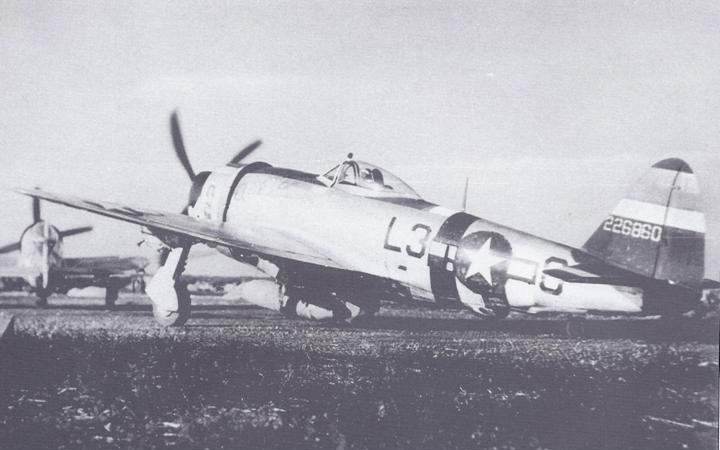 Photo courtesy of Peter Celis, author of "Runways to Victory" published by MARHAV. This photo appears in that book attributed to A. Smith.
Note that L3 and O are on the same level with each other, which is higher than the centerline of the national insignia.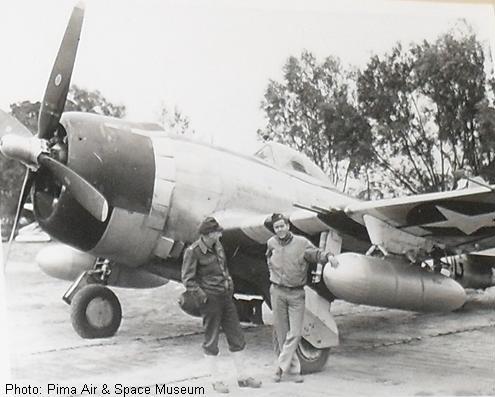 Col Anthony V. Grossetta, 406th Fighter Group Commander in front of 42-26860 when it was new and coded L3-G. At that time it was his personal aircraft. The pinup art cowling panel seen on this same Thunderbolt in the color photo taken 9 months later is possibly the one obviously missing (replaced by an OD-painted panel) in this photo. Note the Hamilton Standard propeller and bare metal empennage and right wing on the aircraft at this time. These were later replaced with a Curtiss-Electric asymmetric paddle-blade prop and OD and gray tail and right wing. Note also the large national insignia on the underside of the left wing not present in the later photo. Perhaps "Angie" got a new left wing at some point also.
2Lt William Cunningham seated in 42-26860 L3-O before the name "Angie" was painted on it but after it had received the yellow nose flash.. Mourmelon le Grand prior to 2 Dec 44. Note that aircraft appears to have olive drab right wing. This is confirmed in the Pima Air & Space museum image below. Photo: Cunningham family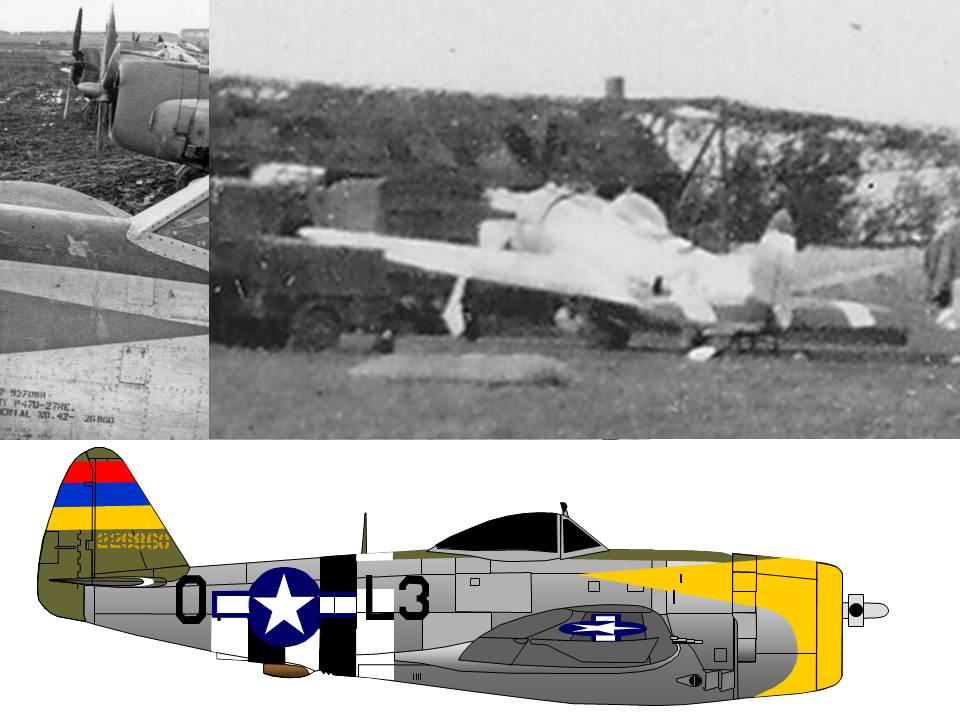 The compelling evidence for the OD right wing. One photo taken before 2 December 1944 and the other taken after 16 April 1945. The OD wing is present in both. Right photo also makes it clear the empennage is OD, not black.
So this is the way "Angie" really looked, though the pinup cowling panel was definitely added at some point and for some duration. Click on thumbnail to view larger version of photo.

This is the painting that the U.S. Postal Service commissioned and then used for the image on the 37-cent stamp. Note that the artist incorrectly showed the empennage as gloss black and the right wing as bare metal.. Click on thumbnail to view larger version of photo.

And this is the sheet of stamps, showing L3-O proudly representing all P-47s and rightly identified as one of the greatest advances in American Aviation. Click on thumbnail to view larger version of photo.

Through no codes or serials are visible on the P-47 with the OD tail and right wing, it is almost certainly 42-26860 L3-O "Angie." If so, this photo confirms the OD (upper) and medium gray (lower) painted right wing and the absence of the pinup art on the cowling. The three aircraft on the right side of the photo are from the 514th squadron. The camouflage-net-covered buildings in the background appear to have brick chimneys. If so, this suggests that the photo was taken at Handorf. If true, then L3-O must have been repaired after the "nose-up" accident on 9 Mar 45 at Y-29. Click on the thumbnail to view a larger version of the photo. Photo: Pima Air & Space Museum